CNC Mill
CNC Milling services cover a wide selection of different operations and machines, on scales from small to large individual parts, heavy – duty gang milling operations. It is one of the most commonly used methods in industry and CNC mill shops today for machining parts to define the precise sizes and shapes.
Computer milling and CNC milling fabrication integrate the computer assisted designs with that of the construction industry. In this method, the structure of operations becomes the critical characteristic in the procedure. Architects can propose compound surfaces, where the assets of the materials should push the design. There is certain software that allows designers to produce the material digitally, which are something greater than just on an image on the screen, and truly test the precision of the software and computer lines.
CONTACT US
What is CNC Mill?
CNC or also known as Computer Numerical Control are machine tools that are used to shape metal and other solid materials. These machines exist in two basic forms: vertical and horizontal. This is closely referred to the orientation of the cutting tool spindle.
Being able to operate on multiple axes the machine also allows performing numerous tasks in a row without resetting the machine such as drilling all the holes in a door hinge. The machine's flexibility is increased by the number of axes on which it operates. A CNC milling machine is used on various materials, such as different tempers of:
A distinctive advantage over other equipment for CNC milling equipment is its ability to move its cutting head in multiple directions. This allows the machine to cut or carve compound shapes.
What Can CNC Do?
A CNC milling machine replaces:
drill presses

turning machines

conventional milling machines
Another advantage of a CNC milling machine is its ability to do the computer control, which helps to remove human error. A certain program is created prior the operation which gives the machine exact instructions. The program was designed by a series of commands called G – codes. G – Codes are written in an alphanumeric format and it represents the precise functions of the machine. Once the material is in place and the software is ready, the machine executes all the milling quickly and error free.
Our Services Are Unique
Due to CNC's ability to reproduce identical parts, this service is ideal for higher production runs. This means that we are able to meet deadlines with a quality of work. To back it up, we have the following to claim:
Our team is extremely talented

We have extensive machine shop experience

We have a proven history of giving our customers exactly what they need

We work on all brands

We can generally provide a fast turn-around

We are very competitive on our costs
These are just some of the things that we can surface you with CNC milling service that we can provide you with. But rest assured that the quality of work you'll be getting is of world class. We work hard to earn and maintain your trust. Our employees are highly skilled and experienced machinists. 
We can work from our customer's design or we can engineer and design the parts for you.
One way our products stand out from the rest on the market is the way our machines can function that have brought together the best features of manual mills and lathes and integrated them with CNC capabilities. All our CNC equipment is backed up by our expert support team that will readily offer you the best assistance from setting up to troubleshooting any difficulties with the product. 
Different industries have unique requirements for conveyor systems, explaining the different types in the market. Industries benefit from conveyors in many ways:
Fast and efficient movement of materials from one point to another
Reliable safety measures provided by properly engineered systems to prevent possible accidents; these systems can be installed anywhere.
High availability of a large range of conveyor systems for varied applications
Possibility of transporting different loads of different shapes and sizes
The low costs and versatility of conveyor belts are attributed to their popularity and wide use. Irrespective of a product's weight, size and shape, it can be effectively transported on a conveyor belt. Products are transported on conveyor belts either in irregular elevations or straight lines.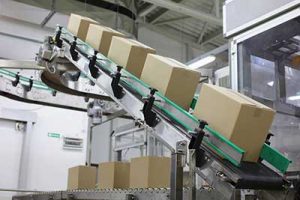 PVC and related materials are used to make conveyor belts. Items or products with irregular surfaces or bottoms are often transported on conveyor belts. In warehousing and manufacturing industries, conveyors facilitate the transportation of heavy materials for easier and more effective handling.
Furthermore, conveyor belt installation companies support manufacturers in their efforts to automate procedures by installing conveyor belt systems. They can automate processes in industries such as food processing, packaging, pharmaceuticals, automotive, canning, furniture, electronics, bottling, agricultural and scrap metals. Airports and postal and freight firms also use conveyor systems to automate handling of baggage.
Therefore, conveyor systems are the business lifelines because they efficiently support increased production. These systems need proper conveyor belt maintenance for the respective industries to attain high performance. It takes high availability of critical parts, regular motor inspection and monitoring, and proper personnel training on maintenance to reach high ratings on performance.
It is also important for the right conveyor design and type to be installed for a manufacturing company to achieve high performance. The weight, shape, size and material of the items to be conveyed should be considered when selecting a conveyor system. With proper maintenance, a conveyor system's service life is bound to increase.
Therefore, if a conveyor belt stops functioning, a company is unable to move its products from one place to another, leading to reduced production. This is where installing conveyor systems by IMS professionals come in to ensure that the integrity and quality of your products and services aren't impaired while being moved from one point to another.
Why Our Industrial Conveyor System Installation Services are Trusted
We offer a turnkey conveyor belt system setup process. This means that our customers can count on us to handle the whole process of installing conveyor belt systems, all the way from inception to completion. We don't just install conveyor belts and production line equipment, but also repair and troubleshoot any related problems.
This gives us a deep understanding of the configuration and capabilities of conveyor belt equipment and machines. Furthermore, we offer support for all the equipment and machines that we install. We are only a call away whenever issues arise when using our installed machines, systems and equipment.
When our customers need to optimize and increase their production output for increased revenues, we are on standby to make their goal a reality.  With over 60 years working with industrial machines, we have attained combined experience working on conveyor systems and production line machinery. This means we provide all solutions our customers might need in this segment.
Moreover, many of our customers have been working with us since IMS' original inception in 1994. We believe this is a testament to the quality and dependability of the service that we provide.
It's our quality services, industry experience worth decades, an experienced team of machine experts and a pool of state-of-the-art modern equipment, machinery and parts that sets us apart from our competition.
We can partner and work together long-term to ensure that your conveyor systems work properly and in case of failure, get them fixed as soon as possible, or get your new plant's conveyor belt systems up and running. We assure you of quality services to meet your needs and great outcomes to keep you happy. After all, your happiness is our happiness and so is your success.
As such, your needs and happiness comes first. Therefore, we do what's within our powers to provide conveyor belt system solutions tailored to meet your unique needs. We are here for you.
Call IMS today for your conveyor installation service needs.